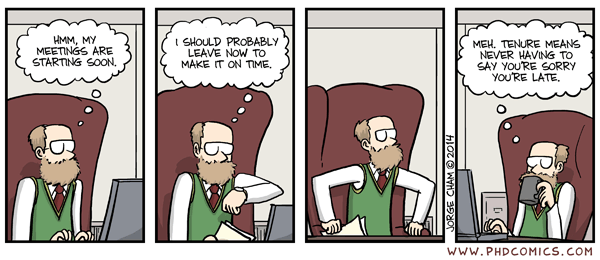 Now that I've finished up some big things I was working on this semester, it's time to start on my tenure packet (or, here, we are faculty with promotion and continuing status, but I'm just calling it tenure since it is more easily understood, and a shorter word).
I thought it might be useful to write about the process as I go through it, though actually committing it to my blog makes it feel like I could jinx myself, I hope not... but the tenure process can seem like a mystery to those who haven't done it yet or those who don't have this process on their campuses, so I wanted to share what it's like.
So, whenever you start your position in a calendar year, even if it's December, it counts as the entire calendar year (at least here, it does), and your tenure "clock" starts ticking. I started here in October 2011, so that means essentially I've been here since January 2011, and that counts as year one. It being 2015, that means I'm technically in my 5th year, so I'm going up 1 year early (which is an option for those who feel they're ready). Our 6th year is our "must" year, where you have to go up regardless of how you feel about it.
I need to write a ~5 page candidate statement highlighting my work here and showing my promise for future excellence, get my CV in order, and come up with a list of people I've collaborated with, as well as a list of people who might understand my work and could be potential external reviewers. Since we have annual review and a 3rd year review process for continuing-eligible librarians, I've been working on my materials and updating my CV each time these reviews come. But it's still a little nerve-racking! I also, although it can be easy to self-promote things in a quick Tweet, find it difficult to talk about how great I am over a span of 5 pages. I know it's more than that, and it's a chance to reflect on what I've accomplished, but there's what seems like an awkward line between bragging and doing this successfully. It's also important to highlight how I've worked collaboratively, as our library is very collaborative-focused. So, I need to be able to pull out what I did and what my contributions were while situating that in the larger group effort.
And since the 3rd year review was an internal library review, and this is at the campus-level, I will need to describe what I do in a way that someone(s) who is not familiar with library work would understand. I don't think I'll have too much of a problem here, but it's something important to keep in mind.
For all of May, I'm going to work on my candidate statement draft and get feedback from colleagues, so that is going to be my focus right now. Then, I'll tighten up my CV and make those lists in June, and hope to finish it all before ALA. Then, when I get back I can finalize everything and send it off.
So my plan is to post occasionally about how the process is going or what I'm learning about it... here's hoping it all goes smoothly!